A BPL CELEBRATION OF MARTIN LUTHER KING, JR.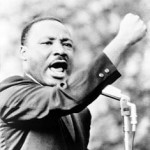 (All BPL locations will be closed Monday, January 18th in observance of Martin Luther King Jr. Day).
Martin Luther King Jr. was born in Atlanta, Georgia on January 15th, 1929. He was a pivotal advocate for African Americans during the Civil Rights Movement in the United States.
King experienced racism from an early age, and those events stayed with and eventually brought him to a life of activism. After graduating college with a doctorate degree in theology, King became a pastor in Alabama. He began a series of peaceful protests in the south that eventually changed many laws dealing with the equality of African Americans. King gave hundreds of moving speeches across the country, and in 1964 was awarded the Nobel Peace Prize. Read More…
Date/Time
Program
Tuesday, January 19 - Wednesday, January 20
11:00 am - 11:45 am

Little Learners Storytime on Facebook Live

Join us for stories, songs, movement, and fingerplays for the youngest! We'll learn colors, shapes, opposites, the ABCs and always provide literacy tips at the end! With puppets and great music, grownups will have fun too!
Ages: 0-5

Tuesday, January 19
7:00 pm - 9:00 pm

The Black Rock Baseball Book Club presents Pete Hamill's classic Novel "SNOW IN AUGUST"

In 1940s Brooklyn, the friendship between an 11 year old Irish Catholic boy and an elderly Jewish Rabbi is as unlikely as snow in August…and that is but one of the miracles in Pete Hammill's novel. Our rabbi sees his first baseball game and our young protagonist will see Jackie Robinson in his first games.

Hosted by Black Rock Branch Library

Wednesday, January 20
7:00 pm - 8:00 pm

Mindfulness & a Healthy Mindset Series live on Skype

Wednesday, January 20
7:00 pm - 7:45 pm

Pajama Storytime on Facebook Live

Join one of our librarians for a virtual pajama storytime on Facebook Live! We'll read, sing, and have some fun together! Don't forget to wear your pajamas and watch with your favorite stuffed animal!
Ages: 0-12
Online Library Card Application
Just print out an application.  Fill it out and bring it to the library with proper ID's (ID info is on each application.) and at no cost become a member of the BPL.
Library Card Application: pdf / doc
Aplicación en Español: pdf / doc
Carte D'Application: pdf / doc
Aplikasyon pou Kat: pdf / doc