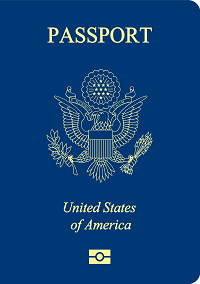 INFORMATION ON GUIDELINES AND FEES FOR YOUR UNITED STATES PASSPORT HERE!
Q. Can I renew my passport at the library?
A. No, we can only accept applications for new passports. Information on renewals can be found HERE.
Q. What does an adult (Ages 16 & Over) need to apply for a new passport at Bridgeport Public Library?
• One passport photo (service not available at the library.
• Original birth certificate (with raised seal), social security number, OR naturalization certificate, OR old passport.
• Valid Driver's license (Copy of front and back).
• Out-of-state driver's license (other then CT or NY) must submit a second form of ID.
• Personal or Bank checks (no cash accepted).
• Proof of name change (marriage certificate, court order for name change or divorce decree).
• Ages 16 – 18: bring your own ID, or bring one parent/guardian to identify you.
Q. Can Children 15 years or younger obtain a passport?
A. Yes. Please note the following requirements:
• Original birth certificate with raised seal AND old passport OR old passport
FEES – Passports
Payment for Bridgeport Public Library can be made by check, money order, cash, credit card or debit card. Please make check payable to: BRIDGEPORT PUBLIC LIBRARY
• Application – Adult & Children: $35.00 Each
• Express Mail (for expedited applications) – $18.32
One check payable to: US DEPARTMENT OF STATE
• Adult (16 and over) – $130.00
• Children (15 and under $100.00
• Expedite – additional $60.00
FEES – Passport CARDS
Payment for Bridgeport Public Library can be made by check, money order, cash, credit card or debit card. Please make check payable to: BRIDGEPORT PUBLIC LIBRARY
• Adult and Children – $35.00 Each
One check payable to: US DEPARTMENT OF STATE
• Adult (16 and over) – $35.00
• Children (15 and under) – $15.00
Link to the United States Department of State