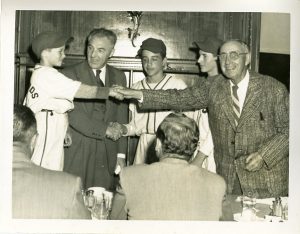 by Andy Piascik
Little League baseball was established in the United States in 1939 in Williamsport, Pennsylvania. From humble beginnings, Little League has expanded over the decades to many countries around the world involving tens of thousands of boys and girls aged 9 through 12 (girls were first officially allowed to play Little League in 1974).* The Little League World Series that began in 1947 and takes place every August in Williamsport is an incredibly popular event televised around much of the world, first in 1953 by CBS-TV and in recent decades internationally via ESPN.
Little League grew rapidly after the Second World War and the Bridgeport Little League was formed in 1948. In 1949, Bridgeport's league officially affiliated with the central organization in Williamsport. That same year, 1949, marked the first year leagues from other countries were incorporated into the Little League structure.
1950 World Series Finalists
Bridgeport Little League achieved immediate national success, first by advancing to the World Series tournament in Williamsport in 1949 and then by making it all the way to the national final game in 1950. Made up of the best players from throughout the Bridgeport league, the 1950 advanced through regional play before losing in the final to a team from Houston by a 2-1 score. That is the closest any Bridgeport team has come to winning the Little League World Series.
Little League's popularity continued to grow throughout the 1950's and new leagues were established around the world. In Bridgeport, those included Park City Little League, North End Little League, East End Little League and Black Rock Little League. To distinguish it from the other leagues in the city, officials of Bridgeport's first league changed its name to the Bridgeport Original Little League, and it continued by that name until its demise in the 1970's.
William H. Ham Stadium in Seaside Village
In its early years, Bridgeport Original's teams played games in several locations and drew players from throughout the city. Once other leagues were established around the city, Bridgeport Original drew youths primarily from the South End, West End and West Side and played all of its games in an open space at the south end of Seaside Village. At some point a ballpark was created there that featured a fence that ringed the outfield approximately 200 feet at all points from home plate, a scoreboard just past center field, bleachers along the first base line and beyond the right field fence, two walk-in enclosed dugouts on each side of the infield, and an enclosed area just off home plate where a public address announcer announced the starting line-ups, each batter, pitching changes and other information just as is done in any major league stadium. The park did not have lights so games were played on weekend afternoons and on weekday evenings at 6:00 pm, early enough in summer so that the six inning games were finished before sunset.
A short distance from the field was a concession stand where spectators could purchase popcorn, peanuts, Cracker Jacks, hot dogs and soft drinks. Pitchers who tossed a no-hitter and batters who hit home runs were treated to a free hot dog and soda after the game. For most of its existence, the ball park was known as William H. Ham Stadium after a prominent local resident and early Bridgeport Original supporter.
During the peak years from the 1950's to the early 1970's, Bridgeport Original consisted of six teams. The sponsors and the names of the teams varied over time but for a period of years, team names reflected Bridgeport and Connecticut themes and each team had distinctive, brightly-colored caps and trimming on their white uniforms: Nutmeg (purple), Seaside (blue), South End (red), Brooklawn (green), Parkside (yellow) and West End (black). Regular sponsors included a local Moose Lodge, Madison Motors, Warnaco, Bonus Market, Bero Realty and Crown Budget Market, a South End institution that still operates all these years later at the corner of Gregory Street and Park Avenue.
A Tremendous Home Run by an 11-Year Old Boy
There were a number of outstanding players and moments in Bridgeport Original's history. One such moment occurred in the summer of 1968 and involved one such player, Andy Lanham, who was both a feared pitcher and the leading slugger in 1968 and 1969. Playing for Seaside and batting against Nutmeg's Joe Wright, a close friend and neighbor from Marina Village and classmate at Roosevelt School (and later Bassick High School), Lanham clouted a ball that rocketed high over the left field fence and continued to soar through the air until it also cleared a fence that separated Seaside Village and the property of the Bassick Company. Parts of the crowd at the well-attended afternoon game erupted into shouts and applause while others stared and shook their heads in shock and disbelief at what they had just witnessed: an 11-year old boy hitting a baseball that travelled well over 400 feet, as determined by league officials who tracked the distance as best they could afterwards with a tape measure. As no one was certain how far past the Bassick fence the ball landed, however, the ball may very well have travelled as much as 450 feet (the baseball was never found). Lanham went on to play multiple sports in high school, first at Bassick and then at Harding.
Phil Nastu: From Bridgeport Original to the Major Leagues
Another Bridgeport Original standout was Phil Nastu, who played in the mid-1960's and later starred in both baseball and basketball at Bassick and the University of Bridgeport. As far as can be determined, Nastu is the only boy to play in the Bridgeport Original Little League who made it to the major leagues. He pitched for three seasons for the San Francisco Giants in 1978-80.
In the mid-1970's, Bridgeport Original moved from its long-time home in Seaside Village to Barnum Field. The move was reflective of the league's decline and Bridgeport's first Little League was disbanded later in the decade. All traces of the ballpark in Seaside Village are gone, though the open space remains. Several other of the city's leagues have gone under in the years since Bridgeport Original's demise but two have persevered and continue today: Black Rock, which plays its games at Ellsworth Field, and North End, which plays its games on new fields at Blackham School.
*At least one girl, Kathryn Johnson of Corning, New York, played Little League all the way back in 1950 by tucking her hair under her cap and pretending to be a boy. When after several games she told her coach she was a girl, the coach complimented her on how good a player she was and kept her on the team. At the end of that season, however, the national Little League office passed a resolution that forbade girls from playing that stood until it was successfully challenged by a lawsuit in 1974.
Sports