Architecture, Business and Commerce, Construction and Development, Italian Populations and Culture
Casa Frouge, "Bridgeport's First Luxury Apartment Building"
By Andy Piascik
When the 84-unit Casa Frouge high-rise on Cartright Street on Bridgeport's West Side opened in 1955, its developer the Frouge Construction Company billed it as the city's "first luxury apartment building" and "the outstanding apartment residence in New England." Located across North Avenue from Mountain Grove Cemetery, the high rise is nine stories high with ten apartments on floors one through eight topped by four penthouse units. (1)
Casa Frouge was the brainchild of Thomas Frouge, co-owner with his brother John of the Frouge Construction Company. Thomas Frouge was born in Ohio and moved to Bridgeport as a young boy with his family. (2) He grew up in and around the Hollow and dropped out of Columbus School to go to work while also finding time to study acting in New York City. He put his theater training to good use in Bridgeport, producing and acting in a number of plays for several years including as part of a Works Progress Administration's Federal Theatre Project troupe that performed regularly at the Park Theatre. (3)
Originally a contracting and lathing firm, the Frouges's business grew rapidly and eventually became well-known in the Bridgeport area. Among the projects the brothers worked on around the state were the Southern New England Telephone and United Illuminating buildings in New Haven, the Veteran Administration hospital in Rocky Hill and dormitories at the University of Connecticut. In Bridgeport, they did work on Marina Village, Yellow Mill Village (later Father Panik Village) and the city's downtown municipal parking garage. After the business became the Frouge Construction Company, with Thomas as president and John as treasurer, the brothers constructed the Trumbull Shopping Park mall, the Merritt, Beverly  and Hi-Way movie theaters, Milford and Greenwich High Schools, and Fairfield Hills Mental Hospital in Newtown. In 1952, Frouge served as the Barnum Festival's ringmaster. (4)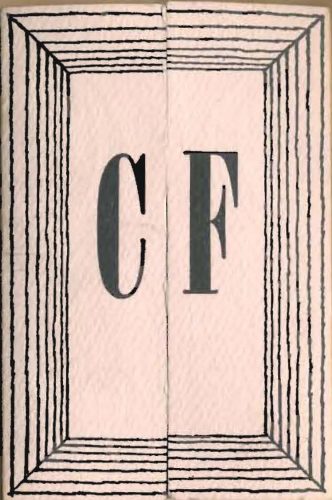 Luxury Amenities
Casa Frouge did indeed have plenty of amenities including 24-hour uniformed doorman service, indoor parking with parking attendants, spacious living quarters, and laundry facilities and a recreation room on the ground floor. The building was a mix of one, two and three-bedroom units, with each apartment having its own terrace, and early on Frouge himself lived in one of the penthouse apartments. The lobby was adorned with a chandelier from the Manhattan mansion of Cornelius Vanderbilt that Frouge purchased and installed for a touch of elegance.
Casa Frouge also included a private park immediately across Cartright Street where residents could sit in the sun on benches, play shuffleboard and gather around a fountain complete with a statue from which water flowed around the clock. The fountain no longer works and the statue is in storage but the park remains.
Residents in the early years were mainly professionals and well-to-do retirees: young singles and couples not yet in need of a single-family house as well as older couples and singles no longer in need of such a house. By one account, Casa Frouge was known as "'Fort Knox' due to the wealth and prestige of its original tenancy." (5)
Casa Frouge II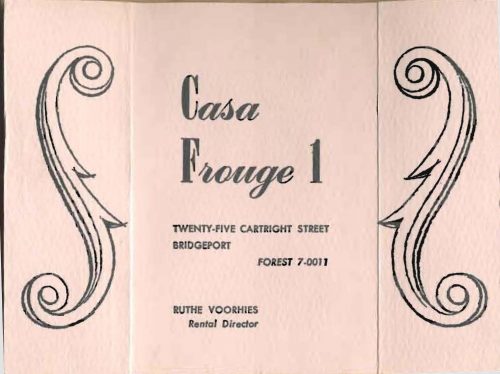 The Frouge Company's advertising consistently referred to the high-rise as Casa Frouge I and the plan from the beginning was to construct a second building a short distance away on the opposite side of Cartright Street. It took seven years but the second building at 80 Cartright Street, Casa Frouge II, opened in 1962. As with Casa Frouge, newspaper ads heralded the pending opening of Casa Frouge II, with one likening living there to living on Manhattan's prestigious Fifth Avenue. (6)
The advertising claims notwithstanding, Casa Frouge II was not quite as luxurious as Casa Frouge I. There was no indoor parking, for example, and, with a large number of studio apartments, the average size of the units was smaller.
 Additional High-Rises in Bridgeport
In the years after Casa Frouge opened, similar high-rises were constructed around Bridgeport, in addition to Casa Frouge II. Among them are Embassy Towers on Park Avenue, which includes tennis courts and a built-in swimming pool; Park Royal, also on Park Avenue; and the Regency on North Avenue a short distance from Casa Frouge.
Thomas Frouge died on January 4, 1969 at the age of 54 of a cerebral hemorrhage. He had moved from Bridgeport to New York City two years before and was in Manhattan at the time of his death. His death was front page news in both the Bridgeport Telegram and Bridgeport Post and Casa Frouge was prominently mentioned in the stories in both papers. The lengthy stories also mentioned that Frouge's heart was transplanted immediately after his death to a New York psychiatrist and that his kidney was also preserved for possible transplant. This was done at the urging of Frouge's wife Joan, according to John Frouge, because Thomas "had always been interested in trying to benefit people." (7)
 Conversion to Condominiums
Two years after Thomas Frouge's death, Casa Frouge was converted into a condominium complex and that, too, was front page news in Bridgeport. (8) All renters were offered first priority to purchase the units in which they were living and the name of the building was eventually changed to Cartright Condominiums, as it remains today. According to the 1971 Bridgeport Post article about the conversion, prices for the apartments at the time were listed as ranging from $25,000 to $65,000. (9) Casa Frouge II was also converted to condominiums and is known today as Cartright Towers. Unit owners in both buildings are allowed to rent their apartments. Some of the older high-rises around town such as Embassy Towers, meanwhile, remain strictly rentals.
The Frouges's vision of quality residential living endures 63 years after the first residents moved into Casa Frouge. Currently, the longest tenured unit owner at 25 Cartright Street is John Cain, who moved in in 1979. Another resident, Diane Kaczmarczyk, grew up in the building prior to Cain's arrival, as her father Connie Kaczmarczyk was the superintendent for many years. After living elsewhere for a number of years, Diane eventually moved back and is now a unit owner.
Notes
This information is culled from a full-page ad announcing the pending opening of Casa Frouge that appeared in the Bridgeport Sunday Post on October 24, 1954.
Lennie Grimaldi: Greater Bridgeport Italian Style (Bridgeport, CT: Harbor Publishing, 1992), page 34.
"Thomas Frouge Dies"; Contractor Was 54. Bridgeport Telegram, January 6, 1969, page 1.
ibid.
From the Connecticut Post obituary of Connie Kaczmarczyk, June 21, 2009. Kaczmarczyk was the superintendent at Casa Frouge for 46 years.
From the full-page Casa Frouge II ad in the Bridgeport Sunday Post on May 6, 1962.
"Thomas Frouge Dies; Contractor Was 54", Bridgeport Telegram, January 6, 1969, page 1; and "Heart of Thomas S. Frouge, 54", Beating in Transplant Patient at N.Y. Hospital, Bridgeport Post, January 6, 1969, page 1. Both stories include discrepancies regarding when Frouge was born and thus how old he was at the time of his death. Both state that he was born on March 16, 1914 and that he was 54 when he died. However, both also state he was seven years old in 1917 when his family moved to Bridgeport, which means he would have been born in 1909 or 1910 and, assuming a March 16th birth date, 59 when he died. Presumably Frouge was born March 16, 1954 and was 54 when he died (this is the information Lennie Grimaldi uses in his book Greater Bridgeport Italian Style).
"New Status Set For Apartments: Casa Frouge I on Cartright Street to Become a Condominium". Bridgeport Post, July 8, 1971, page 1.
ibid.