Business and Commerce, Italian Populations and Culture, Neighborhood: The Hollow
Ozzi's Shoe Rebuilding, A Hollow Neighborhood Fixture for 69 Years
By Andy Piascik
In 1924, Nick Ozzi purchased a storefront building at 447-449 Coleman Street and established a shoe repair business, Ozzi's Shoe Rebuilding, that lasted for 69 years. The business was located on the ground floor of a building that also included two apartments upstairs that served as a landing place for members of the Ozzi family as they moved from Italy to Bridgeport.
Repairing shoes was a highly-skilled trade that took years to learn. There were dozens of shoe repair men in Bridgeport (in most likelihood all of them were men; Nick Ozzi's granddaughter Venetia Ozzi Scalo cannot recall ever hearing of a single woman who worked the trade) and many, like Nicholas, were first or second generation Italian-Americans. Nick served as secretary of the local shoe repair association for many years, assisted by his son Robert when Robert was old enough.
Nick originally learned the trade as a boy in the city of Tortoreto in the Abruzzo region of central Italy, where he was born in 1893. While still in his teens, Nick set sail for the United States, landing first in Chester, Pennsylvania. There he met and married Amelia Giandonato, who was also born in the Abruzzo region in the village of Palombaro, and the couple moved to Bridgeport a short time later. Nicholas worked for some years repairing shoes and saving money while Amelia gave birth to the first two of their four children, Philip in 1918 and Robert in 1919.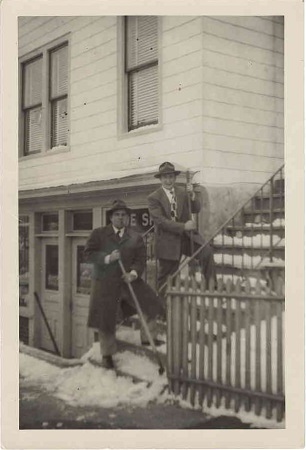 By 1924, Nick was able to purchase the house on Coleman Street. He opened his business on the ground floor and the family moved into one of the apartments upstairs. It was at this time that he began to send money to his brothers and sisters so they could move from Italy to Bridgeport. Once they arrived, Nick's four siblings lived in the upstairs apartments, found jobs, got married and eventually moved into homes of their own.
It was in the shop on Coleman Street that Nick apprenticed Philip and Robert from the time they were very young. He and Amelia had two more children, a daughter Lucy and Nick, Jr. Nick, Jr., passed away at the age of 20 and never worked in the family business.
Venetia Ozzi Scalo is the only child of Robert and the granddaughter of Nick. Her parents were still living in one of the apartments in the Coleman Street building when she was born in 1957 and even after they purchased a home on Elmwood Avenue a short time later, the shop and the apartments upstairs remained a family hub. Venetia has fond memories of the family business and of helping her father when she became old enough by working the cash register and helping to keep the shop clean.
"I've been told my grandfather Nick was a stern taskmaster," Venetia recalled. "He insisted his boys redo any task they had not done well. But both boys grew to love fixing shoes because they carried on the business and never considered doing anything else for a living."
As boys, Philip and Robert found ways to combine work and fun. "My father would recount that they would shine shoes for people who were walking along Coleman, Pequonnock, and Grand streets on their way to Mass at St. Augustine's Church or St. Raphael's Church. They charged ten cents for a shoe shine and they would each earn a dollar or a dollar and a half over the course of the morning. They felt like millionaires and would spend their money at Pleasure Beach on Sunday afternoons."
Bridgeport was one of the nation's major industrial hubs at the time and the city's workers were hit hard by the aftermath of the stock market crash of 1929. Venetia heard stories growing up of unemployed tradespeople and laid-off factory workers coming around her grandfather's shop looking for work.
"Unemployed tile setters, painters and electricians offered to work for a dollar a day during the Great Depression," Venetia recalled her father telling her. "They offered to sweep the floors or empty the garbage and were happy to do any work at all."
The fact that many people were without jobs or working for low wages actually resulted in a boom for business at Ozzi's. "People were more apt to fix their shoes than buy new ones during the hard times of the Depression," Venetia said. Still, no one in the family got rich repairing shoes. The work was demanding and the store was open six days a week, Monday thru Saturday, from 6:00 a.m. to 6:00 p.m. Venetia remembers that her father took only one week of vacation a year each August.
Philip married Olivia Cianelli in 1945 and the couple raised their three daughters Amelia, Jean and Anna in one of the upstairs apartments. In 1956, Robert married Lydia Iobbi, a native of the town of Montone, also in the Abruzzo region of Italy. Although Venetia was only one year old when her family moved out of Coleman Street, she had a lot of fun playing with her cousins in their apartment. One of her cousins remained living there well after she was married and had children so that four successive generations of the family lived for a period of time in the Coleman Street house.
Although Venetia grew up hearing many stories about her grandfather, she never knew him. He died in 1954 at the age of 61, three years before she was born. He dedicated himself to his family, providing for his brothers and sisters to come to the United States and assisting them greatly in getting them settled in jobs and homes. After his death, the name of the business he established was changed from Nick Ozzi and Sons to Ozzi Shoe Rebuilding.
Philip Ozzi died in 1964 at the age of 46. According to Venetia, her father Robert briefly considered the possibility of closing the business after his brother died and perhaps getting a job at a local factory. Robert loved his work too much, however, and he soon ruled out the option of doing anything else. He had taken business courses years before to prepare for the possibility of having to run the business on his own one day and that was precisely what he decided to do. He became the sole proprietor of the business and Ozzi's continued on for 29 more years.
It was during this time that Venetia began spending time in the shop. "During the summertime when I was a little girl I would help my dad at the store," Venetia remembered. "I rang the register, stocked shelves, polished shoes and generally helped out. It is an experience I still remember fondly. I made friends with all the kids in the Hollow, many of whom I still run into from time to time. But most especially, I was able to be with Dad up close and spend the day with him. It was very evident that his customers loved him, as did all the kids in the neighborhood, who would never pass by the store without yelling, 'Hi, Ozzi!' from the street."
"The memory of Dad in his cobbler's apron at the window tapping heels on a shoe is an iconic one," Venetia went on. "The image could be a Normal Rockwell print, but that was how he spent his day. He once explained to me that the shoe fixing process was very methodical. He started each day at the front of the store doing hand work and slowly progressed to the back, where the electrical grinding machines were. At the end of the line were the polishers. Dad said each and every shoe was polished and shined before it was returned to the owner. If he noticed that the shoelaces were worn, he'd replace them with a new pair, free of charge."
Over time, Bridgeport, the only place Robert Ozzi ever considered home, changed. Factories shut down, old friends moved away and businesses in the Hollow closed. King Cole, located close by on Park Avenue at the corner of North Avenue and one of the city's first giant supermarkets, went under. Small businesses that were family-owned just like Ozzi's such as Jerry's Pizza also closed. One of the few that lived on into the 1980s and 1990s was Angelo's Pear Tree Shop on Grand Street.
"Angelo's Pear Tree Shop was another Bridgeport institution, run by Angelo Rimini," said Venetia. "Angelo's family and my family became very good friends through the years and Angelo's was as much a fixture in the neighborhood as Ozzi's Shoe Rebuilding was."
In 1986, Robert Ozzi and his shoe repair business were featured in Bridgeport: A Legacy of Neighborhoods, (1) a documentary television program shown on Connecticut Public Television. In the show, Robert is seen working in the front of the store by a large plate glass window facing Coleman Street. As he works, he waves to passersby while answering questions about his trade and the many years he's spent as a fixture in the Hollow.
Robert was also one of seven local residents profiled in a special Labor Day supplement of the Bridgeport Post-Telegram in 1989. He is shown in a photo looking at the camera while holding one of his tools and a pair of shoes. In the accompanying caption, Robert says "I really like working with my hands and I like my job."
Venetia remembers her father saying similar things all the time. "My father loved his job and loved his life," she said. "He was always saying that he loved waking up in the morning with the prospect of going to work and fixing shoes and talking to customers, but at the end of the day he also he also looked forward to coming home to a wife and daughter who 'treat me like a king.'"
Just before Robert was featured in the Post-Telegram, he sold the property on Coleman Street. The members of the family who were living there moved and Robert rented space in a shop a few blocks away on Frank Street. He continued repairing shoes there until 1993 at which point the business was 69 years old.
It was not an entirely happy ending to an immigrant-family-makes-good tale that is such a big part of the story of the United States. As Venetia remembers it, her father had said many times that he would work repairing shoes until the day he died or was no longer able to physically do so. However, he was held up several times at gunpoint in the Frank Street location. During what turned out to be the last of these hold-ups in the summer of 1993, the assailant threw ammonia in Robert's face. Some of it got into both of his eyes and he suffered blurred vision for the rest of his life. He decided a short time later to close the business, and another Bridgeport institution was no more. One upside was that Venetia gave birth to her first child and Robert and Lydia's first grandchild, Dina Anne, just weeks after Ozzi's Shoe Rebuilding closed its doors.
By 1993, the number of shoe rebuilders in the Bridgeport area had dwindled to a handful. "My father was not in this for the money," Venetia said. "When he closed up shop and customers were forced to have their shoes fixed elsewhere, they said time and again how expensive the repairs were. They had no idea how little he had been charging until they went somewhere else."
Lydia passed away in 1995 and Robert in 2002. Venetia still lives in the area with her husband and two children. She has worked as a teacher of Italian and Spanish and for more than 30 years in the field of educational publishing.
Special thanks to Venetia Ozzi Scalo for her recollections and the use of Ozzi family photographs

1.) Bridgeport: A Legacy of Neighborhoods, the 1986 Connecticut Public Television documentary in which Robert Ozzi.  Bridgeport History Center.
2.) The Bridgeport Post-Telegram Labor Day feature that includes Robert Ozzi is the September 4, 1989 edition.