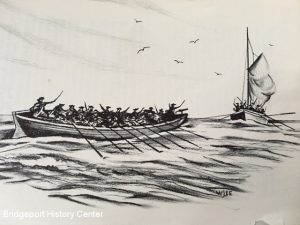 By Robert Foley
Caleb Brewster left the quiet life on his family farm home in Setauket, Long Island, at 19 years old for the adventure of a position on a Nantucket whaler.  He then pursued a life at sea as a mate on a merchant ship.  However, as soon as news of the American Revolution and of the shots of the Battle of Lexington and Concord reached his ship, he quickly returned home. It was war against British oppression.
Historical Accounts, Maritime, Veterans and Wars

By Robert Foley
The Charles Cooper was built in Black Rock, Connecticut in 1856 and is the only surviving American ship of its kind in the world. It is the best surviving wooden square-rigged American merchant ship.  Built for New York's South Street packet trade, the vessel voyaged around the world during the golden age of sail, and when it could sail no longer, became a floating warehouse for nearly a hundred years on an island off South America. The ship sailed for a decade from 1856 to 1866. It carried cotton to England, salt to India, gunpowder ingredients to the North during the Civil War, and brought European immigrants seeking economic opportunity and freedom in America. The Charles Cooper began with regular fixed schedules between New York and Antwerp. Then, with the outbreak of the Civil War, it no longer had set published departure times and instead voyaged based on spot demands from America to Europe and Asia.
Business and Commerce, Maritime