Celebrating Bridgeport's Olmsted Legacy
Wednesday,

July 13 - August 31
12:00 am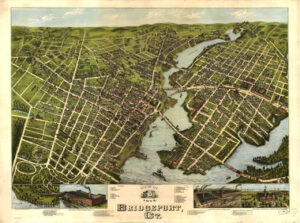 Thanks to the generous support of the Connecticut Chapter of the American Society of Landscape Architects, the Bridgeport History Center is thrilled to present Frederick Law Olmsted: Landscapes for the Public Good.
Frederick Law Olmsted designed both Beardsley and Seaside Parks, two of the most beloved and scenic parts of the City of Bridgeport.   The exhibition features panels that document Olmsted's landscape design legacy at a national and local level, and encourages visitors to get out and see as many of the parks as possible!
The exhibition is located on the third floor of the Burroughs-Saden Library at 925 Broad Street and is open to the public Mondays and Tuesdays 10 AM-6 PM, Wednesday and Thursdays 12 PM to 8 PM and Fridays and Saturdays 10 AM to 5 PM.