Banks and Banking, Bibliography, Business and Commerce, Politics
Daniel Nash Morgan, 1844-1931: Bridgeport Entrepreneur, Politician and Self-Made Man
By Carolyn Ivanoff
Daniel Nash Morgan was a prominent Bridgeport personality for many years during his long life.  A self-made and extremely successful entrepreneur and politician, Daniel Nash Morgan served his city, state, and nation.  Interesting to note in these politically polarized times, he was a staunch Democrat who also had a large Republican following.  During his life-time his biography would appear in such publications as The Successful American, Men of Mark in Connecticut, Representative Men of Connecticut 1861-1994. Morgan was held up as a shining example of success, of hard work, upstanding moral character, and the American dream.  He himself believed this wholeheartedly and would advise, "To be born and to live in such an incomparable country as the United States, the unparalleled advantages of this wonderful age, to the blessings and opportunities of youth and health, commendable ambition and a high purpose in life will win you success." Quaint words, sometimes still used in various contexts to motivate youth, but Daniel Nash Morgan believed them and lived them.
Daniel Nash Morgan was born in Newtown, Connecticut in 1844.  One biography notes he was a healthy child who worked his parent's farm and who attended local schools.  At thirteen he began to clerk in his father's store.  His education was often interrupted by work on the farm and in the store and his formal education ended at sixteen.  He would supplement his education with reading in his free time and he enjoyed studying history.  He also read the newspapers and followed politics. Later in life he believed that newspapers were vital to education.  He became sole proprietor of his father's store in 1865.  He continued  successfully merchandising dry goods and he moved to Bridgeport in 1869 when he married Medora Judson, of Huntington.  After his marriage he continued in the dry goods and rug business in the firm Birdseye and Morgan and continued to be successful in business.  He went into banking and became president of City National Bank and later vice president of Mechanics and Farmer's Bank.  During this period he and Medora had three children, two of whom would live to adulthood, May Huntington Morgan and William Judson Morgan.  During these family years his political career began and he would serve the City of Bridgeport on the Board of Education, the Common Council, and as Mayor in 1880 and 1884.  He would serve as a Connecticut State Representative in 1883 and as a Connecticut State Senator in 1885 and 1893.  He would suffer two significant political defeats, one as Democratic candidate for governor in 1893 and as a candidate for the U.S. Senate in 1899.  His greatest political achievement was serving as U.S. Secretary of the Treasury under President Grover Cleveland's second administration from 1893 through 1897.
Daniel Nash Morgan was considered a fine banker and a good citizen often combining philanthropic and civic causes along with his business and political involvement.  He was a Victorian gentleman in a Victorian world, a very different world from our own in the 21st century. Photographs from his family and Washington career open a window into that world. During his tenure as Secretary of the Treasury, in 1895, Ida May Hinman (1854–1926) an American feminist, journalist, suffragette, and temperance activist wrote The Washington Sketch Book, one of the few Washington, D.C. guidebooks written by a woman at the end of the 19th century.  It was not only a guidebook of sites around Washington but a fascinating guidebook to Washington society in the 1890s.  Daniel Nash Morgan, his wife, daughter and son are written about and pictured in flattering terms.  The book allows us to look back into the genteel life of Washington society in the last decade of the 19th century.  The book and photos can be viewed at: https://archive.org/details/washingtonsketch00hinm/page/n7
In Bridgeport, the family made their home at 445 Washington Avenue. The house is no longer there. However, a few years after his marriage Daniel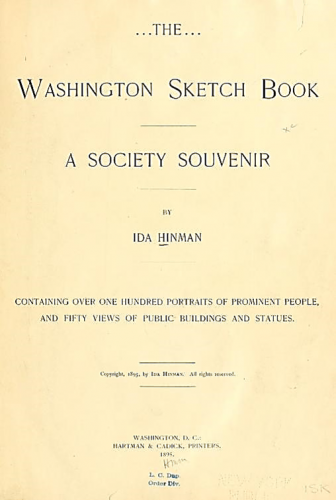 Nash Morgan bought a second home in Huntington.  This home had been built in 1816 along Means Brook by his wife's great grandfather.  The family called it Bonnibrook and used it extensively as a retreat and summer home.  The home and property was later sold to the Catholic Diocese of Bridgeport and St. Lawrence Church was built on the land. The house was used for many years as the church rectory.  The house was later moved by the church to the back of the property alongside St. Lawrence School to serve as school offices when a new rectory was built at the house's original location.  Photographs that the family posed for in 1892 at Bonnibrook document the tranquil Victorian world they enjoyed together in this home.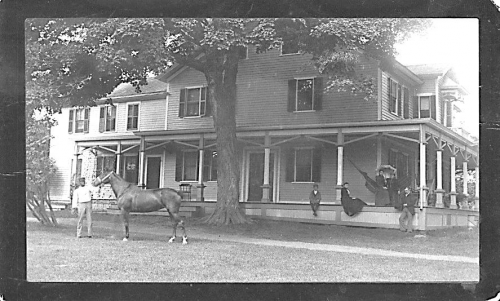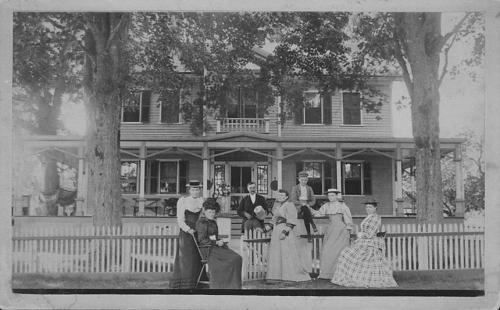 Above: 1892 cabinet card photographs of the Daniel Nash Morgan family at their summer home, Bonnibrook, in Huntington, Connecticut.  Author's collection.
Throughout his long life, Daniel Nash Morgan would maintain many political, philanthropic, and business relationships.  He loved history, he collected autographs, and he was involved in many, many public and charitable enterprises.  He was instrumental in the organizing, building and support of Bridgeport Hospital of which he was extremely proud.  Daniel Nash Morgan would outlive all of his immediate family except his daughter, May.  On May 19, 1931 at 85 years old he would be struck by a car while crossing the street.  He would be taken to Bridgeport Hospital, the hospital he helped found, with what were first thought of as minor injuries and a broken thigh. A full recovery was hoped for. He would pass away twelve days later on May 30, 1931 and the newspapers would report that flags on all civic buildings in Bridgeport were ordered at half-staff in tribute.  Daniel Nash Morgan is interred in Mountain Grove Cemetery with other Bridgeport notables from the city he loved and served.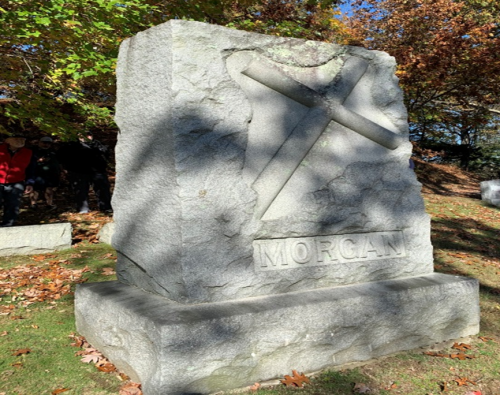 Grave of Daniel Nash Morgan in Mountain Grove Cemetery, Bridgeport, Connecticut.  Author's photo
BIBLIOGRAPHY
Ancestry.com:  census records for multiple years, family trees, birth, death, marriage records
Bridgeport City Directory, 1923
Bridgeport History Center, Bridgeport Public Library, Burroughs-Saden Building, 925 Broad Street, Bridgeport, CT, https://bportlibrary.org/hc/
Cauldwell, William, Editor, The Successful American, January 1902, A Monthly Illustrated Magazine, Volume
V, No. 1,  Google Books: https://books.google.combooks?id=HHEeAQAAMAAJ&pg=PA627&lpg=PA627dq=Daniel+Nash+Morgan%27s+dry+goods+business+in+bridgeport+ct&source=bl&ots=JrQPDmAPP3&sig=ACfU3U3JCRkdnNhe7vYGuumivRht9XiLEA&hl=en&sa=X&ved=2ahUKEwijhd7w4pnmAhVhUd8KHYgBDnAQ6AEwAXoECAoQAQ#v=onepage&q=Daniel%20Nash%20Morgan&f=false
Hartford Courant, June 2, 1931, Obituary for D. N. Morgan
Hinman, Ida, The Washington Sketch Book, A Society Souvenir, Hartman & Chadick, Washington, D.C., 1895, Library of Congress https://archive.org/details/washingtonsketch02hinm/page/110
LaMacchia, Jeanette, B & Nesteriak, Sandra, editors, A Pictorial History of Shelton, Connecticut, Herff Jones, Gettysburg, PA, 1987
 Moore, William Foote, editor, Representative Men of Connecticut 1861-1994, Massachusetts Publishing Company, Everett MA, 1894, Google Books:
https://books.google.com/books?id=ov0pg8wKktEC&pg=PA392&lpg=PA392&dq=%22daniel+nash+morgan%22&source=bl&ots=dOHq6MaVs1&sig=ACfU3U1TJSbqUQrX11cfsW7VCpNHeHq06Q&hl=en&sa=X&ved=2ahUKEwjA1_a9-JnmAhXSrFkKHf3uC9c4ChDoATAFegQICBAB#v=onepage&q=%22daniel%20nash%20morgan%22&f=false
Osborn, N. G., Col., Men of Mark in Connecticut, Ideals of American Life Told in Biographies and
Autobiographies of Eminent Living Americans, Volume III, William E. Goodspeed, Hartford, CT , 1907  https://www.cga.ct.gov/hco/books/Men_of_Mark_in_CT_Vol_III.pdf
Spaulding, J.A., Editor, Illustrated Popular Biography Of Connecticut, Press of the Case, Lockwood & Brainard
Co., Hartford, Conn. 1891, https://www.cga.ct.gov/hco/books/Illus_Pop_Biography_of_CT.pdf