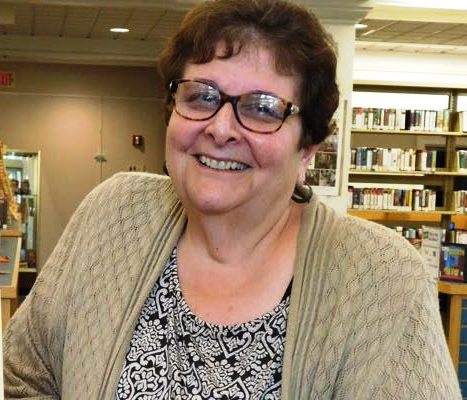 Monday, March 6th Bernadette Baldino returns to the BPL in the role of Interim City Librarian.
Here is a little bit about Bernadette taken from an article  by Brad Durrell in the October 17, 2016 issue of the Easton Courier.
Bernadette Baldino loved to read as a child growing up in Bridgeport, and began working as a page at her neighborhood library at age 16. She was paid 90 cents an hour to shelve books.
She took the city's civil service exam "on a whim" and passed, accepting a full-time Bridgeport Public Library position after high school graduation.
"It was the best education I could have ever had," said Baldino, 67.
She was assigned to a branch in a predominantly African American neighborhood, working at a turbulent and emotional time when Martin Luther King Jr. and Robert Kennedy were assassinated. "We were all mourning together," she said.
Having grown up in a mostly Italian and Irish neighborhood, Baldino was exposed to a different culture. "I learned that all people are more alike than different," she said. "It really expanded my horizons."
Because she was young, she was asked to conduct story hours and other children's activities. Some of the youngsters she mentored then fondly remember her to this day — including, not too long ago, a hospital worker she met during a medical procedure.
Working-class roots
Baldino's background was Italian working class in Bridgeport's North End. Her father was a factory worker and her mother a school cafeteria worker and supervisor. She has one older brother.
She spent time playing outdoors, learned to swim at the Boys & Girls club, had Sunday dinners at grandmother's house, attended Catholic schools, and was active with her family at the local Catholic church.
"We lived in a real neighborhood," she said. "When I went out to play, there were tons of kids to play with."
Baldino remains close friends with four other girls from her neighborhood. They celebrated their 65th birthdays together two years ago with a vacation to Puerto Rico, and three of them attended her recent retirement party at the Easton Library.
Her parents had only eighth grade educations, but she dreamed of attending college and becoming an archeologist or teacher. Her life changed when her father died unexpectedly soon after her high school graduation, and she took the full-time library job to help the family's finances.
Baldino would later go on to earn bachelor's and master's degrees, attending classes at night and in the summer while a full-time library worker.
She lived in Bridgeport until 2007, when she moved to an adult community in Trumbull so her elderly mother could continue living with her. For many years Baldino was the main caretaker of her mother, Angela, who died in 2013.
A constant companion is her 13-year-old dog, Maggie. "She's a senior citizen, like me," Baldino joked.
Easton position
Baldino spent 27 years at the Bridgeport Public Library in various positions, working her way "up the ladder" to assistant city librarian, where she oversaw the system's four branches.
Baldino decided to take the Easton Public Library director's job in early 1995, as the town was debating whether to build a new stand-alone library. The then-cramped Easton Library was in Town Hall.
She first wanted to be sure Easton residents would approve a referendum to build a new library, and they did. Construction on the new site began a few months after she started the Easton position.
It was "exciting" for the town to have a new facility, twice the size of the old space, Baldino said, providing "a place for kids to enjoy" as well as a new community room to host various functions.
She said it also was nice not to have prisoners handcuffed to a library table, which police occasionally did in the old Easton library when they had two people in custody because of a lack of cell space.
As for her career, going from a large urban library to a small suburban facility "was quite a change," Baldino recalled.
Positive difference
Working at a library is "like having Christmas every other day," being able to open newly delivered packages full of never-touched books and other materials almost daily, she said.
"It's amazing to work in a place where if you don't know the answer, you know where to find it," said Baldino, whose personal reading habits include newspapers, magazines, novels, and mysteries.
She is confident that libraries will remain important places for the community to learn and gather, even in the Internet era.
"Libraries are the great equalizers," Baldino said. "They are democracy. They are where everyone can go for information."