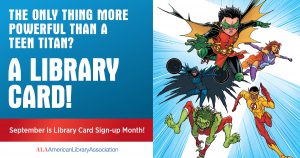 September is Library Card Sign-Up Month
Fines Forgiven!!
The Bridgeport Public Library joins the Teen Titans in wanting you to have the most of your super power. So for the entire month of September FINES on your Bridgeport Public Library card will be FORGIVEN. In addition anyone who applies for a card for the very first time will be put into our raffle for a $25.00 gift card!
The only thing more powerful than a teen titan is a LIBRARY CARD!!
This September, crime fighting DC Super Heroes, the Teen Titans, will team up with the American Library Association (ALA) to promote the value of a library card.
We encourage all Bridgeport residents to take advantage of this amazing opportunity to join our team in four ways.
1. Apply for a new card if you have never had one.
2. Renew an old card.
3. Replace a lost card.
4. Use your current card to check out materials and use online resources.
Your super power is awarded!
Your power is increased by eliminating fines!!
Your power gets stronger every time you use your card!!
**Open to Bridgeport residents only. Some restrictions may apply.
Visit our website www.bportlibrary.org for more information or call/visit your local Bridgeport Pubic Library location. Applications for library cards are also available for download on our webpage.
#LibrarySuperPower
#LibraryCardSignUpMonth