Saturday,

December 2
2:00 pm - 3:30 pm
When Connecticut's servicemen went to war in 1917, they didn't go alone. Connecticut's charitable organizations and libraries, supported by donations from the state's residents, provided reading materials for soldiers and sailors throughout the war. Librarians who served on the front lines and in military hospitals believed books had important uses during the war: to educate, to entertain, and when prescribed in hospitals, to heal.
This talk will offer a history of the Library War Service itself, the roles women played as librarians dispensing books, and Connecticut's place in this history. We'll think about what kinds of books helped men escape the cruelties of life in the trenches. We will also examine the kinds of reading deemed "therapeutic" by librarians and medical experts who cared for the sick and wounded.  We'll focus on Bridgeport hospital, a place specifically influenced by this war work.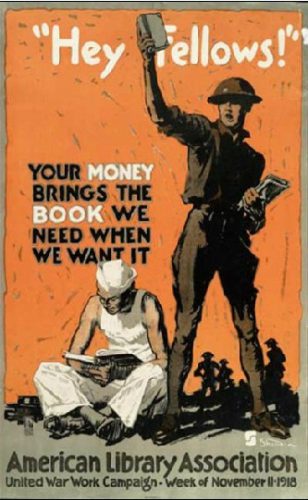 After the war, librarians stationed at the hospital worked with physicians to prescribe books and censor any materials they believed might harm their patients. By prescribing from the bookshelf during the war, librarians could educate citizen soldiers, keep them from immoral forms of recreation, and provide a mechanism for servicemen to deal with the realities of war. At stake was not just the health of their patients, they argued, but of the nation itself. Bridgeport's continued use of books as medicine after the war showed the legacy of this work, and the perceived relationship between reading and health that continues to influence the ways we understand our own relationships with books today.
Presenter:
Mary Mahoney is a Ph.D. Candidate in History at the University of Connecticut where she studies the history of bibliotherapy, or the use of books as medicine. She came to this topic after she was offered two cancer memoirs and a history of the JFK assassination during a hospital stay and wondered what therapeutic effect such reading might have. Her work focuses on the relationship between reading and health and examines the stakes of investing reading with the authority of medicine. Her work has been published and made the subject of a touring exhibit on bibliotherapy and World War I, an online version of which can be found at www.booksasmedicine.com She is also the host of a podcast called Chapters which shares the stories of readers' lives through the books that have meant the most to them.